Manifest Destiny: The Lewis & Clark Musical Adventure
Manifest Destiny is a musical comedy weaving together sharp satire and heartfelt storytelling into a grand adventure. Through ten original songs, the film follows gruff explorer William Clark and his naturalist companion Meriwether Lewis as they blaze a trail to the western waters. Along the way they encounter the wise Sacagawea, battle the elements, and find that President Jefferson has some surprises up his sleeve.
Can Lewis & Clark work together to reach the West? In a world where destiny already seems manifest . . . what does the frontier have in store?
---
From the imagination of Jer & Kev, Manifest Destiny reinvents American history through Broadway-style songs and an expressionistic cinematic style. Anthony Parisi makes his feature film debut as director and cinematographer.
Contact us for more information about this new film.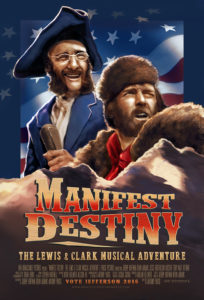 Feature Film (More at IMDb)
Directed by Anthony Parisi
91 minutes